The year is 1804 and Lady Olivia Sophia Allen Townsend has just turned 20 years old. She is young and beautiful and considered by some in polite society to be far too eccentric for her own good, because she can see spirits. When Olivia was younger, she was very open about her gifts. But the shunning by her peers has caused her to turn her back on those who need her the most. The spirits who are caught between two worlds. That is until her best friend, Lilly Collins comes to her in the middle of the night and asks for her help. Lilly can't remember what happened to her, but she finds herself in need of Olivia's unique gifts.
Olivia has a younger sister, Coco, who is also gifted with a unique set of skills. She can touch someone and know things about them. Sometimes, things that they would prefer to keep hidden away. Together, the sisters set off on a sea voyage, from Ireland to America, intent on solving the mystery of Lilly's untimely death.
Brody and Quinton Beaumont are fine-looking, eligible southern gentlemen and heirs to a successful cotton empire. They also happen to be twins who are hiding a deep, dark secret. Their mother, Annabelle Beaumont died the same night of their annual winter ball, eight years earlir, yet she still continues to rule over their plantation home, with an iron fist.
Olivia feels drawn to Brody Beaumont, which is strange, because she has never been drawn to any man. She must figure out if she can trust this one and if he or his brother was somehow involved in her best friend, Lilly's death.
Destiny like life is unpredictable and Olivia and Coco Townsend are about to collide with the Beaumont brothers as their fates seem hopelessly intertwined.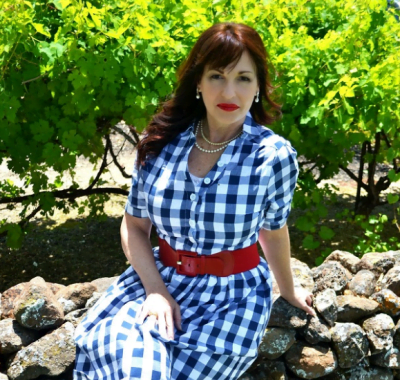 DIANE MERRILL WIGGINTON
Diane Merrill Wigginton was born in 1963, in Riverside, California and moved to San Diego when she was eight years old. She enjoyed spending her summers in Burley, Idaho, with her mother's parents, Florence and Orval Merrill. It was during this time on the farm, riding horses, herding cattle and taming the wild kittens born in the haystacks every year, that Diane developed a love of storytelling and dreamed that one day she could tell her stories to others. Diane is the author of Angelina's Secret, Isabella's Heart and Olivia's Promise.
Blueink Reviews
Starred Review
Excitement and romance abound in Isabella's Heart." "Fans of historical romance are sure to love this adventurous tale of intrigue, family bonds, and a love that will not be denied.
Foreword Reviews
Isabella's Heart is a fun and imaginative tale of romance with strong themes of family and loyalty." "Wigginton has created a unique series, following the mother-daughter link of strong, thrill-seeking woman.
Kirkus Reviews
Wigginton tells an absorbing tale, peppered with witty, flirtatious dialogue and just the right number of steamy sex scenes." "It contains sufficiently fresh plotting and character idiosyncrasies to satisfy even experienced romance readers.