HOPE DISAPPEARING
BY SHERMAN HAGGERTY
WHY WE LOVED THIS PROJECT
The team at Izzard Ink immediately loved the idea of this project and its noble goals—homelessness is an issue that affects communities everywhere, and is in dire need of attention and forward-thinking solutions. We loved how the author, Sherman Haggerty, is both solution-driven and brings years of first-hand experience dealing with the issue. It was a pleasure to help create a book that would ultimately be featured on TV, nationally syndicated radio shows, and in print outlets, in the author's quest to make the world a better place.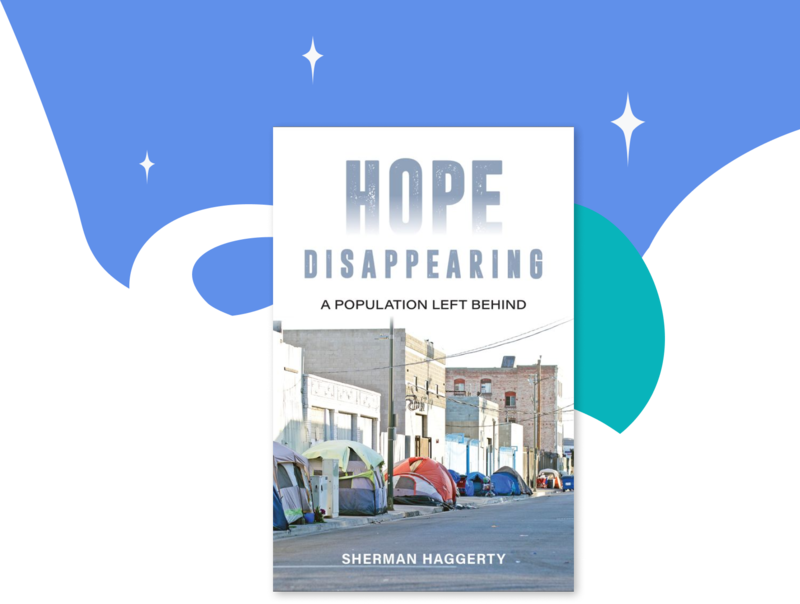 We started out by completing Izzard Ink's assessment process for Sherman's initial manuscript.


Our editors saw that the manuscript had the potential to be great, and identified several ways it could be improved—including added citations, smoother sentences, and lengthy paragraphs. We wanted to make sure the book would be top quality, to help the author further establish his creditably as an expert in the field.


From our recommended editors, Sherman chose an editor with a deep background working on non-fiction books for major publishers. Throughout the process, Sherman was open to the editor's questions and feedback, helping to make the content clear and engaging.


This process later helped the book get several great reviews from literary outlets such as BookLife and Publishers Weekly.


Sherman worked with Izzard and let his expert cover designer lead the way on the design, drawing on her years of experience on similar books. She read the manuscript and came back with eight different options. Sherman settled on a version of the current cover, with a few minor revisions. We love how the cover captures the subjects at glance—both the issue at hand, and how it affects communities.
"This book was inspired by an event that took place one afternoon in 2017 and changed the course of life for more than 200 homeless people who were in the waiting list for a transitional housing program.
This list was erased impersonally, in one day, by a directive."


Fox 32 Chicago featured the author on a video segment as a subject matter expert, to an audience of over 1.3 million viewers;


The Eden Magazine, based in Beverly Hills, California, featured the book in a two-page spread in February of 2022 to their audience of over one million readers;


Various podcasts and nationally syndicated radio shows featured the author and the book;


Several articles were written and printed in various outlets featuring the book and the author as an expert on the issue of homelessness.




During the developmental editing process, Sherman worked closely with his editor to improve the organization of content in the book, ensuring that arguments, stories, and information on a given subject were organized to be in the appropriate chapter.


The editor also helped add citations where necessary—these are key for a non-fiction book making a specific argument about policy, such as Hope Disappearing.


Finally, after the editing process, efforts were made to ensure the book could be published in time for Homelessness Awareness Month in November, timing which helped with media appearances and reaching the intended audience.


"When I started the project, I had no idea where to start so I did research on self-publishing. Skipping the details on how confusing that was, I ended up at this site; 'The Alliance of Independent Authors,' which provided excellent reviews of publishing options. Based on those I eventually chose Izzard Ink Publishing to be my publisher.
Their executives and representatives helped me put together an absolute first-class team for editing, cover design, layout, and preliminary public relations.
The book turned out so much better than it started and the process was amazing. I could not have possibly achieved these lofty results on my own."
— Sherman Haggerty
Ready to start
your own Journey?
Mermaid Tears
SUSAN L. READ
Sarah has always been a hard-working student, even if she has felt her grades don't reflect her efforts. She is a good friend, a kind daughter, and she loves being creative. But lately she is struggling with school and friendships, and nothing brings her much joy. Her family doesn't seem to understand what's happening, and neither does Sarah. Everyone keeps telling her to do better, and Sarah is trying her hardest, but when her first year of middle school begins, what was supposed to be a fresh start turns into a disaster that quickly spirals out of control. Sarah, who can't understand why she is feeling this way, begins to seriously wonder if the world would be better off if she was no longer alive. Sarah has always felt a connection with mermaids, and she now wishes she was a mermaid herself, so she could just slip under the ocean and swim away, disappearing from everyone's lives forever.
Let There Be Light
DAN GORDON
The fact this book was based on the movie was enticing for Izzard Ink. We enjoyed working with the movie crew and thought the book coming out the same time as the movie would help increase revenue. We worked with one of the screenwriters to get a foreword from Sean Hannity.
The Catalogue Vol. 01
FRAN BERGER
The Catalogue was a project that needed to be completed in a matter of weeks and we appreciated how responsive Fran was—which helped us keep the process moving. The attention to every detail by Fran and her team made this project a success.
Gain the Izzard Ink Edge
Wherever you are in your journey, we are here to help and guide you along toward publishing success.
À la carte services may be available under strict circumstances, please inquire for more information.

Start your Manuscript Assessment